Why this 'little teapot' is a good choice
This specialized teapot will enhance your tea experience. It helps bring out the flavors of the tea and makes brewing a fun ritual.
Our handy teapot is specially designed to simplify the process. It makes it easy to enjoy the rich flavors and ritual of Chinese tea.
Our teapot has been designed with ease of use in mind. You can put the teapot in the dishwasher.
Our teapot is compact and designed for easy storage. Plus, it's a beautiful addition to your kitchen, so you could also leave it on your countertop as a decorative piece.
At Mablend, we strive to get your tea to you as quickly as possible. If you order before 22:00, your tea will be delivered the next day. We offer free shipping for orders over €40. For orders under €40, the shipping costs are €4.95. We have chosen to charge shipping costs for smaller orders to reduce the carbon emissions associated with shipping small packages. This is a conscious choice to minimize our impact on the environment.
How to use?
Fill the teapot with 5 grams of loose tea (about 2 teaspoons).
Heat water to 100°C.
Pour the hot water into the teapot.
Let the tea steep for about 30 seconds for the first brew.
Press the button and let the tea flow into your cup.
You can re-brew the tea leaves several times.
You can adjust the steep time for each infusion
to your own taste. The longer the infusion, the more bitter the tea.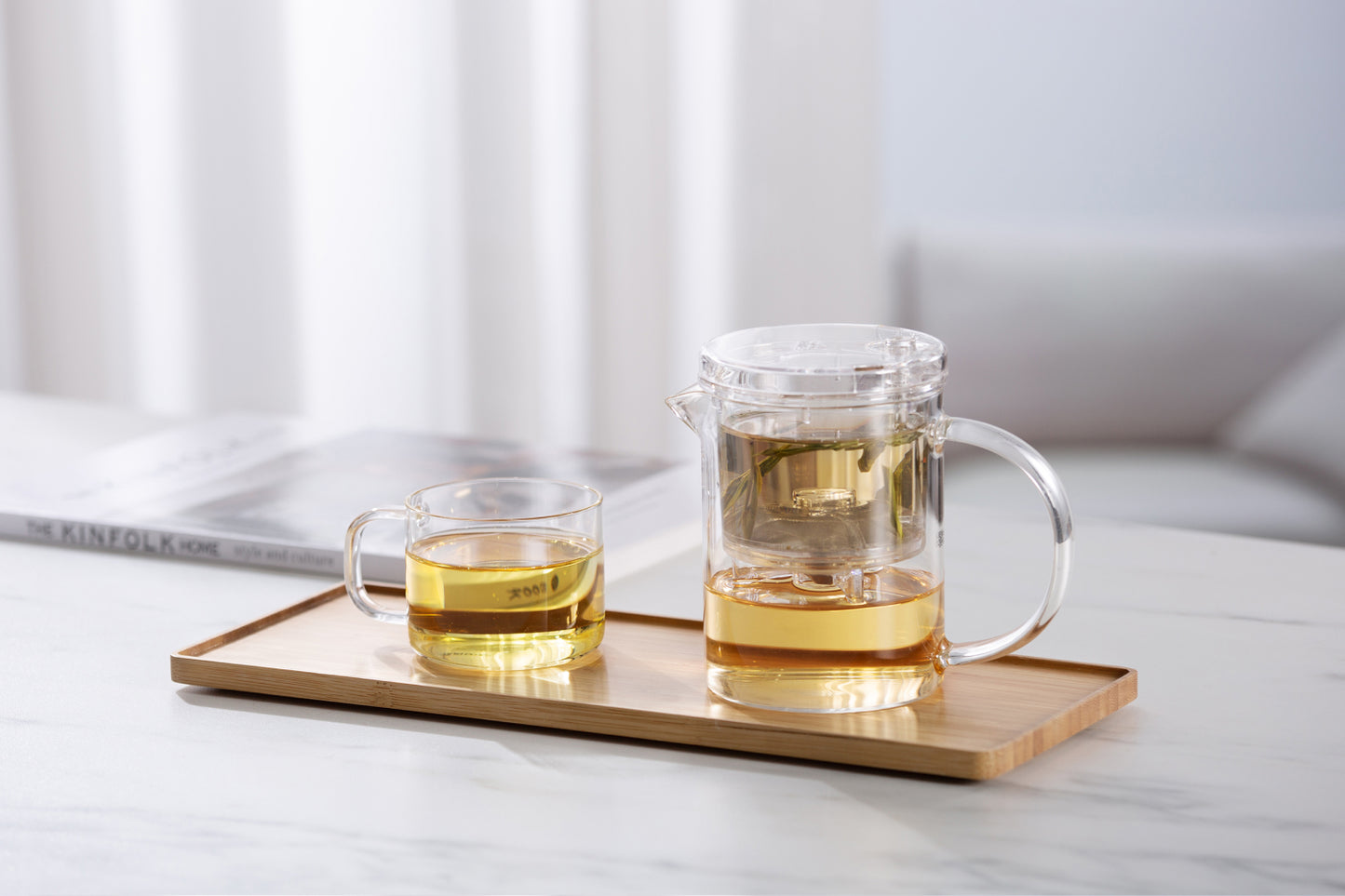 The ultimate companion for tea lovers looking for optimal brewing
Experience optimal tea making:
Our Small Tea Maker is precision crafted to ensure a perfect cup of Oolong tea every time. The fine mesh filter allows the tea leaves to fully unfold and release their full flavour, resulting in a rich and satisfying brew.
Whether you're a beginner or an experienced tea connoisseur, this maker will help
you can achieve the perfect infusion with ease.
Light and portable
We understand the importance of mobility and versatility in today's fast-paced world. That's why our Small Tea Maker is amazingly light, making it the ideal companion for your travels, office breaks or cozy moments at home. The compact size fits perfectly in your purse or handbag, so you can enjoy the rejuvenating benefits of oolong tea wherever you are.
Designed for individual servings, our Small Tea Maker can hold up to 150ml of tea. This capacity ensures that you can enjoy a tasty cup of Oolong tea without compromising on taste or strength. The infuser size is optimized to provide a balanced ratio of tea to water, ensuring a well-rounded brew.
Fast delivery
Delivered at home within 1-2 days
Free return
Free returns within 30 days
Secure payment
pay with secure payment options